How Parakar can support your workpermit-dependent employees across Europe
Are you planning on adding international professionals to your team? Or are you sending your (clients) employees overseas? Then it's important to know there are various work permit options available for them. This blog will provide you with an overview of specific considerations to be aware of, when requesting Parakar to employ workpermit-dependent workers in our countries; The Netherlands, France, Ireland, Germany, and Spain. Important to consider: outsourced employment setups (EOR) often bring limitations to the available workpermit-options. In some cases, it may NOT be possible to employ workpermit-dependent workers under an EOR-setup.
Work permits in The Netherlands
In The Netherlands, a variety of work permit types are available, aiming at different target audiences.
Highly Skilled Migrant permit and minimum salary
The most common type of permit is the 'Kennismigrant' (Highly Skilled Migrant) permit. The most decisive criterion to be eligible for this permit is the gross salary. Highly skilled migrants younger than 30 years need to earn an minimum income of €3.549,- gross per month. For Highly skilled migrants over 30 years old this is a minimum of €4.840,- gross per month.  
The EU BlueCard permit
Next to the Highly Skilled Migrant permit (HSM) The Netherlands also supports the EU BlueCard permit. However, this type of permit is rarely used. The EU BlueCard hardly has any benefits compared to the HSKM permit. On top of that, the posing criteria for the EU BlueCard is much stricter on minimum income and educational background.
For both the HSM permit and the EU BlueCard the Netherlands-based employer is required to be a certified IND sponsor. Parakar is one of the oldest and most experienced sponsors under this program. In The Netherlands, both permits can be used to employ candidates in the PEO/EOR context Parakar works in.
French work permits
In France, the formalities and documents required to work for foreign nationals vary according to the length of stay and immigration status.
Duration of the stay
For a short stay (business trip or short assignment), a visa will be sufficient to come to France and stay during 90 days without any residence permit. In some cases, some assignees won't need a visa and/or a work permit.
For a long stay, any employees need a work permit. The work permit can take different forms:
A Visa
A Residence card – or temporary document while waiting for the card to be issued
A separate document (work permit)
The EU Nationals, members of the EEA (Iceland, Norway, Lichtenstein) and Swiss nationals do not need a work authorization or a visa to enter and work in France under a French local contract.
Assignment of less than 90 days
Depending on their nationality, your employee may need to apply for a Visa.
The Schengen Visa (Visa C) allows a stay of less than 90 days within a 180-day period, with multiple entries. Next to a Visa, your employee may need a work permit. We would need to gather documents and apply for a work permit. However, if the situation of employment opposability* is applicable, the employer will also have to post the job offer prior to hiring the candidate. Some exceptions may apply for to specific cases.
The work permit application is filed with the competent French Labour Office based on the host entity location in France. If the work permit is granted, the assignee needs to have a medical check-up. The procedure is different according to whether the assignee was already living in France.
* Employment opposability : Any foreign local hire could in theory seek a job in France and get hired locally (under a French employment contract). However, there is a restriction : the authorities could refuse the work authorisation if they consider that the unemployment rate is too high. Before applying for a work permit, the employer needs to post the job offer to 'Pole emploi' or "Apec" (official French job advertising platforms) during 3 weeks on their website.
Assignment of more than 90 days
For a stay of more than 90 days, the employee needs a long stay Visa.
There are two types of long stay Visa's (Visa D) :
The VLS-TS : this is a Visa that lasts up to 12 months. The Visa is valid as a work permit, which means that it allows the employee to work once arrived on French soil. Once arrived, it is not necessary to apply for a residence card. However, the employee must "validate" his VLS-TS online.
The VLS: this Visa allows you to enter France and start working. It is valid for 3 months. Once arrived in France, the assignee must apply for a residence card within 2 months upon arrival.
The type of Visa applicable depends on the immigration status.
Immigration Status
In France, there are different immigration statuses according to the situation (temporary worker, students, etc.). Skilled workers that come to work for more than 3 months may be eligible to get a multi-entry year residence card called "Passport Talent". It is issued in several situations. The 2 main situations that Parakar could employ/support an employee are the following ones:
Talent Passport – Qualified Employee
Conditions :
A contract of 3 months minimum
Master 2's degree or equivalent, or Professional bachelor's degree in France
Salary : Minimum €38.147,-
Duration: 4 years , renewable, and possible to change the status.
Talent Passport – European Blue Card (Highly skilled workers)
Conditions:
Local contract with a minimum of 1 year
Salary : Minimum €53.836,50
At least 3 years of studies or 5 years professional experience related to the job offered
Duration: 4 years , renewable, and possible to change the status.
After 18 months in France, the assignee is allowed to go and work in another EU country. They will have to change the status of their residence permit in the other EU country.
In both Talent Passport situations the employee needs to do all the immigrations formalities; however they are exempted from work permit and medical check-up. They can also travel when they receive the validation of their application, while waiting for the residence card to be issued. On top of that, their family is welcome in France. The spouse is authorized to work in France without any work permit starting from the validation of their application, while waiting for the residence card to be issued. After 5 years of continuous and regular residence in France, they can ask for a residence permit that allows them to work during 10 years. This permit is renewable.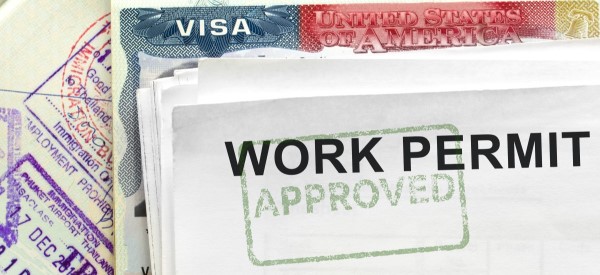 The German EU Blue Card
Germany has a similar complicating context as Ireland: EOR/PEO solutions fall under the German ArbeitnehmerÜberlassungsGesetz (AÜG). Just like in Ireland, there is a complication that immigration law, prohibits the labour authority to approve work permit requests for workers that are to be employed under AÜG-style employment contracts.
There is a special type of residence permit for foreign academics seeking qualified employment that does NOT require the approval of the labour authority: the German EU Bluecard for Regular Professions (Type 1).
The German EU BlueCard for Regular Professions (Type 1)
This permit has as prerequisite that the employee will get a salary of €56.800,- per year. They also need to be a graduate from a Germany recognized institute. Please note that only non-EU citizens from the following countries can enter Germany without a visa and apply for the Blue Card in Germany: USA, UK, Canada, Australia, Israel, Japan, New Zealand, Switzerland and the Republic of Korea.
All other non-EU nationals will have to apply for a national D visa at the German Embassy of the country they currently reside in, prior to entering Germany. Once their visa has been approved, they can enter Germany, start working and the Blue Card application process can start.
Aufenthaltstitel
In special cases, there is a possibility we can onboard an employee who has had a residence permit (in German: Aufenthaltstitel) for over two years. They will usually have a document called "Zusatzblatt", which is attached to their residence permit.
Spousal Reunification
A spouse joining their partner in Germany, may be eligible to have any type of employment. This is usually the case if:
Their partner has the German or an EU nationality or
Their partner has a Blue Card. In order to determine if we can onboard the employee, we would need to see their residence permit (Aufenthaltstitel) and, if it mentions "Erwerbstätigkeit erlaubt", we can onboard the employee with their current permit.
Parakar is also able to onboard employees on a SOFA status (spouses of US military).
Spanish work permit options
One of the most popular and issued work permits in Spain is the Highly Skilled Professional (HQP). This work permit exists to support highly qualified professionals, graduated or postgraduated, with a Spanish job offer.
There are various requirements for this permit and companies usually need to either have;
Strategic sector certificate
A company developing a business of general interest
More than 250 employees or
A certain amount of stock or foreign investment
In addition to that, if you want to hire a graduate or postgraduate from universities and prestigious business schools as a high qualified professional you can also take advantage of the HQP residence permit regardless of the size of the company, the sector in which you operate or the activity developed. A HQP residence permit residence permit allows the high qualified professional to stay and work in Spain for up to two years. The residence permit can be renewed for an additional two-year period as long as the requirements have been fulfilled.
Family members and spouses
Family members who accompany or join the HQP may apply jointly and simultaneously or successively for their residence permit and, where appropriate, for their visa Family members are:
The spouse or unmarried couple
Children who are minors or those of legal age being financially dependent on the holder
Parents in their charge
Can we support you with Work Permits across Europe?
Like mentioned before; this is just an overview of specific considerations to be aware of, when requesting Parakar to employ workpermit-dependent workers in our countries. We're more than happy to help you with any special or difficult cases. With over 15 years of experience, we're specialized in global employment services. That's why we are your ideal partner for managing complex and tedious processes. Next to in The Netherlands, France, Germany, Spain and Ireland we deliver our services in many other countries through a strong partner network. This network covers basically all other European countries.
Want to know more about our services? Get in contact with us.