Blogs
Parakar inside
30/11/2021
How Parakar became one of the fastest growing companies in Europe
Parakar Group has received the FD Gazelle 2021 Award for being one of the fastest growing companies. A prestigious entrepreneur's prize provided by Het Financieel Dagblad, a well-known Dutch financial newspaper.
But how did we achieve this incredible result and how did we manage it? Johan Opperman, Managing Director of Parakar, will tell you all about our rapid growth and how we managed it in this blog.
The Growth of Parakar
Growth is an incredible thing but, it's not always easy. Rapidly expanding from a start-up to a scale-up company takes a lot of dedication and time.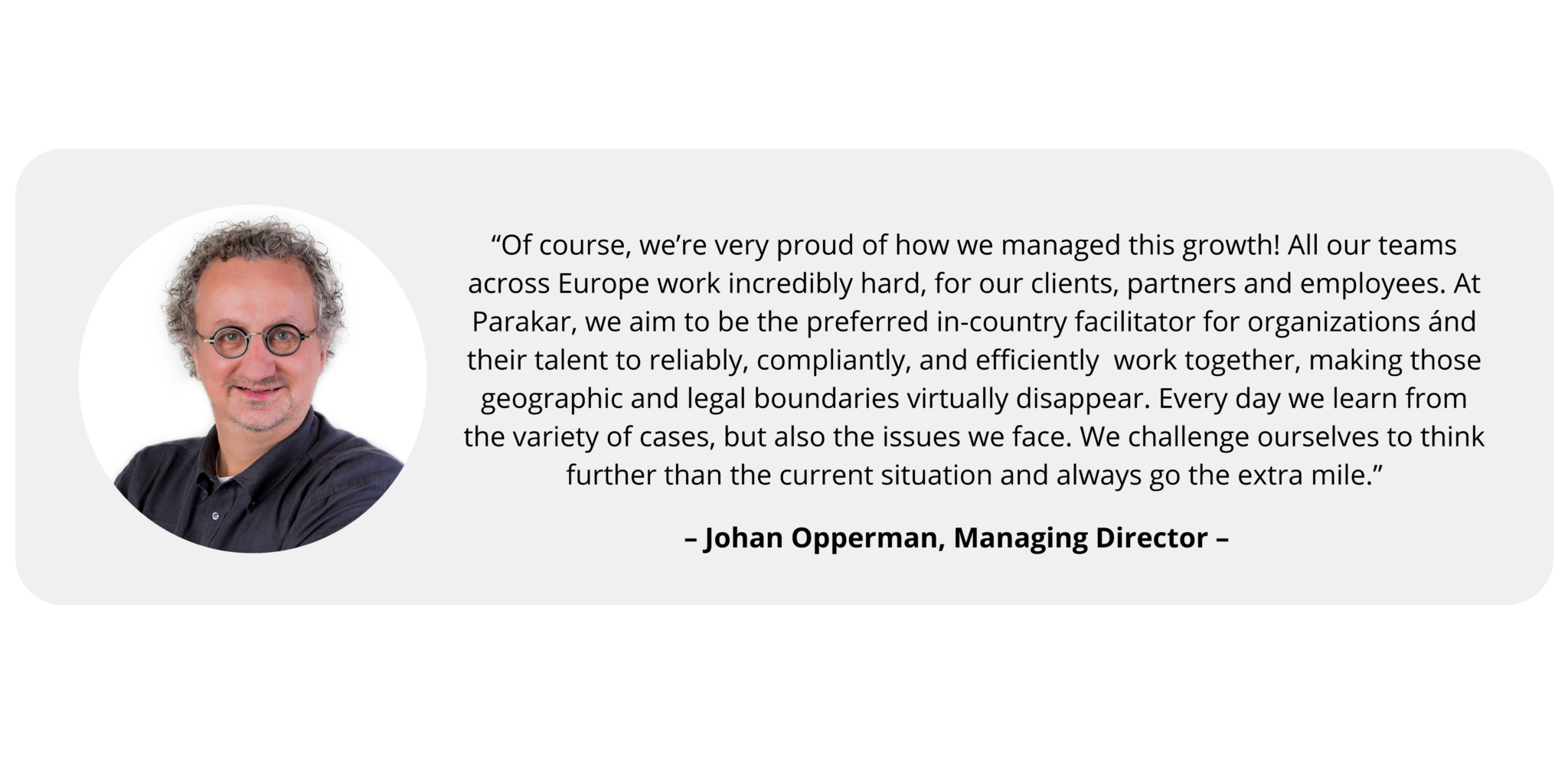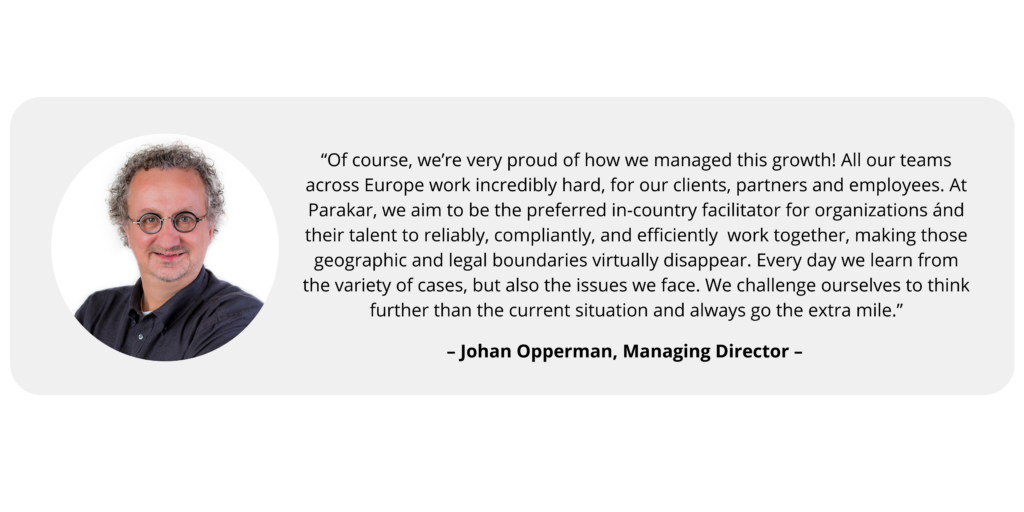 This is what makes Parakar unique. Our focus lies in providing solutions for organizations and individuals to compliantly engage in working relationships that not only cross geographical borders and cultures but also help bridge statutory and employment-legal contexts. In the last year we have experienced huge growth in requests for our services resulting in more than quadrupling our business with more and more clients, partners and employees.


How did Parakar manage this growth and what did we learn?
Growing together this fast creates a bond. The entire company, all teams, experienced this growth, which resulted in a fighting teamspirit to battle all the challenges we faced. By always being open about the growth we created a trusting environment for our loyal employees. We have always known we were able to tackle this growth together.
Gaining many more (external) employees, partners and clients also forced us to take a critical look at the systems and processes we were using. Could these be improved or upgraded? How can we use our time more efficiently? Which specialists were needed to gain more knowledge about certain topics? A key factor of managing growth. We were determined to work on both development of the existing teams and on expanding them. On top of that we made sure to always communicate openly with our Partners & Clients. We want to grow together, instead of growing apart.
The FD Gazelle 2021 Award made us realize the impact of the growth on our company. It forced us to take a step back and admire the result and success we have achieved together. And of course, celebrate it!
What's next?
We believe in our purpose to enable all people to work from every location around the world by erasing any limitations and facilitate the global employment market.
Parakar currently has European offices in The Netherlands, Germany, France, Spain and Ireland. We're very busy expanding to other countries, even outside Europe. We want to make sure our external employees always have an in-country office with HR specialists that speak their language, making communication with clients and partners easier.
Of course, we will keep investing in our employees, by training them as specialists in their own discipline. We keep upgrading and improving our systems and tools to satisfy the needs of our Partners & Clients. We keep adjusting our strategies, because the growth Parakar is enduring won't be stopping anytime soon.
Want to be part of our Parakar family?
Visit our Parakar careers page to see how you can strengthen our team. Contact us to see how you can strengthen your business.